Story
With a girl singing for a singer, and fateful encounter of young people, An impressive story depicting "miracle".

Director / Screenwriter

AKIO NISHIZAWA

Chairman of WAO Corporation

Original Works / Theme song

AI KAWASHIMA
Ai Kawashima, a singer-songwriter was called "Angel on the Street".

Based on Ai Kawashima's note "The Last Words", the story was reconstructed as a youth group drama with the young president and student staff who found her, friendship, love, a single-minded attitude, and passion of the young people - "Symphony in August" expresses these universal themes into a movie work that touches the heart of the viewers.

Ai, the girl came to Tokyo alone when she entered high school to fulfill her promise of becoming a singer with her only family, her mother. She started out as a street musician in Shibuya trying to find her way to become a singer.

One day, the young president and his student staff, were attracted to Ai's singing voice and impressed by her single-minded attitude, supported Ai through repeating many trial and errors because of his fateful encounter.

Ai decided to "stand the stage of a big music hall in Shibuya". At that time, her mother dreaming of becoming a singer finally fainted due to an illness ...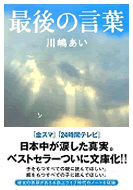 "Saigo no Kotoba"

("The Last Words")

AI KAWASHIMA

Ai Kawashima is an actual singer-songwriter who is very popular among young people in Japan. Director and scenario writer Akio Nishizawa completed impressive animation based on her autobiography "Saigo no Kotoba"("The Last Words").